A prominent refugee agency has warned that Yemen faces an "untenable" humanitarian situation, as the war-torn nation marked 500 days since Saudi Arabia began its bombing campaign.
Figures released by the Norwegian Refugee Council set out the humanitarian situation in Yemen, where 21 million people – 80 percent of the population – require some form of aid amid an ongoing war.
The NRC said at least 6,500 people have been killed – more than half of them civilians – and 32,000 injured since Saudi Arabia formed a military coalition aimed at reinstating the government of President Abd Rabbuh Mansour Hadi.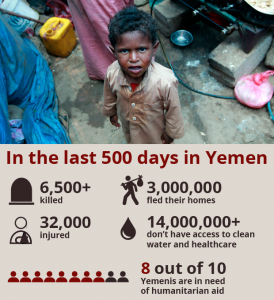 Riyadh launched their bombing campaign in March 2015 to push back Houthi rebels who the Saudis say are backed by regional rival Iran. The Houthis seized control of the capital Sana'a in September 2014, forcing Hadi into exile in Riyadh.
The NRC said that while peace talks in Kuwait have collapsed, Yemeni civilians are being plunged ever deeper into a desperate humanitarian situation.
The Oslo-based organization said that almost 20 million Yemenis have no access to clean water, and more than 14 million do not have access to healthcare. More than seven million people are classified as "severely food insecure," while a Saudi-imposed blockade has "crippled" Yemen's economy, according to the NRC.
Syma Jamil, NRC's country director in Yemen, added: "Despite the staggering figures of ordinary Yemenis suffering because of the raging conflict, the outside world has kept its eyes shut to this crisis. The situation for Yemenis keeps deteriorating and it is now untenable. Yemenis won't be able to cope for much longer."
This post was originally published in Middle East Eye. Click here to read.