Just ten countries host more than half of the world's refugees with wealthy nations showing a lack of responsibility in absorbing enough people in need, according to a report by rights group Amnesty International.
The ten countries, in order of refugees hosted based on the U.N. refugee agency's figures, are: Jordan (2.7 million), Turkey (2.5 million), Pakistan (1.6 million), Lebanon (1.5 million), Iran (979,000), Ethiopia (736,100), Kenya (553, 900), Uganda (477,200), Democratic Republic of Congo (383,100) and Chad (369,500).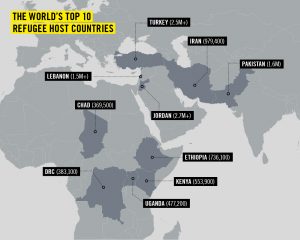 The ten countries account for less than 2.5 percent of the world's total GDP and hold 56 percent of the world's total number of 21 million refugees.
The rights group said that countries neighboring crisis zones faced the worst impact of refugee flows, criticizing developed nations for doing less than they should be.
It said that the wealthiest countries "host the fewest and do the least" and that the situation for refugees will only get worse because of the "self-interest" of these countries.
The refugee crisis emanating from the Syrian conflict divided the European Union, with Germany welcoming more than 1 million refugees in 2015. Other EU nations were less welcoming, rejecting migrant quotas and taking more hard-line measures to prevent refugees flows; for example, Hungary built a border fence with Serbia.
"A small number of countries have been left to do far too much just because they are neighbors to a crisis," said Amnesty's secretary general Salil Shetty, in the report named Tackling the Global Refugee Crisis: from Shirking to Sharing Responsibility.
"It is time for leaders to enter into a serious, constructive debate about how our societies are going to help people forced to leave their homes by war and persecution," he added.
"They need to explain why the world can bail out banks, develop new technologies and fight wars, but cannot find safe homes for 21 million refugees, just 0.3 percent of the world's population."
This post was originally published in Newsweek. Click here to read.